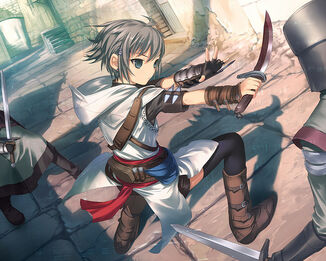 I don't care which demon I have to kill, As long as I get paid.--Miyuki to Shin
Miyuki Nakamura is the only female assasin in the demon hunting clan Legendary.
Appearance
Edit
Miyuki looks like an average middle school student. Shae sometimes does Jobs for Legendary.
Miyuki Nakamura

Alias

Cloud

Age

13

Species

Human

Gender

Female

Affiliation

Legendary

Occupation

Assassin

Martial Status

Single

Status

???

Allies

Shin

Enemies

???
Personality
Edit
Miyuki is boastful, arrogant, stubborn and retains a serious demeanor.
Ad blocker interference detected!
Wikia is a free-to-use site that makes money from advertising. We have a modified experience for viewers using ad blockers

Wikia is not accessible if you've made further modifications. Remove the custom ad blocker rule(s) and the page will load as expected.