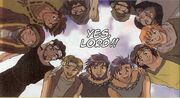 The Apostles are a group of eleven individuals that followed Christ during the days of his works, and are a major antagonistic group in the story.
Hsitory of Origin
Edit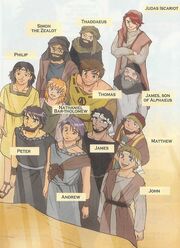 The origin of the Apostles started when Jesus was baptized by John the Baptist, and was in a barren desert for many days. After rejecting the Satan spectre's temptations, Jesus eventually bet Andrew and Simon (whose's name he changed to Peter).
List of Apostles
Edit
Ad blocker interference detected!
Wikia is a free-to-use site that makes money from advertising. We have a modified experience for viewers using ad blockers

Wikia is not accessible if you've made further modifications. Remove the custom ad blocker rule(s) and the page will load as expected.